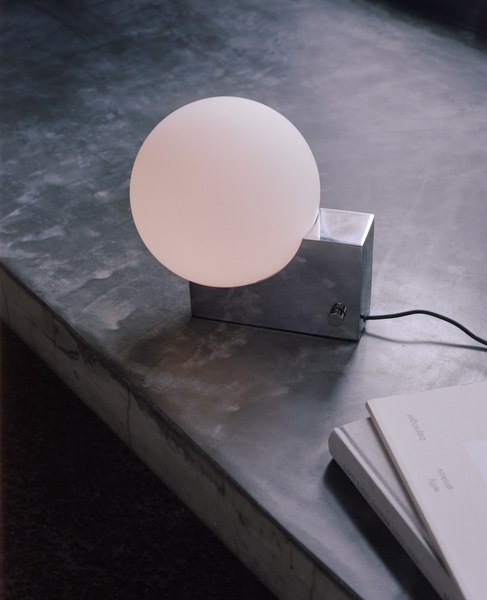 Journey SHY1 Lamp
Product Category:
Lighting - Table Lamps

Lighting - Wall Lamps
Product information
Materials
Downloads
After pursuing various configurations joining a sphere and a rectangle, this lesson in geometry led designer Signe Hytte to a beautifully balanced lamp embracing both: The Journey lamp.
Cradled in the curve of its upright rectangular base, the sphere, when lit, conjures up the feeling of a full moon. And with the dimmer function, it's a lamp that lets you adjust the atmosphere to suit your mood.
In terms of lighting, the dim to warm feature reflects science-based discoveries about how the right light contributes to our health and sense of well-being. Already incorporated into the Journey lamp, it's a state of-the-art dimmer function in line with the findings from the 2017 Nobel Prize winners who confirmed our inner biological clock and the importance of colder, white light for an energy boost and warm light for creating a sense of calm.
The Journey lamp works as a table lamp and a wall lamp. The opal glass shade exudes a soft, ambient light seamlessly controlled via the dimmer knob on the base. Choose from a mirrored chrome base and chrome dimmer for a monochromatic look. A matt black base with a brass dimmer. Or a clay-toned base with a brass dimmer. Either way, the merging of round and rectangular is a true tribute to Euclid, who is often referred to as the ''Father of Geometry''.
Material:
Mouth-blown sanitized opal glass and Steel
Finishes:
Mirror, Black or Clay 
Weight: 1.6 kg