DESIGNCRAFT CANBERRA - EXPLORE OUR FURNITURE  COLLECTION
designcraft have a range of furniture collections with a family of variations to suit your entire project. Cohesive designs that can flow from your offices, meeting rooms, kitchen and dining, through to lounge and living areas.
designed by Hee Welling
About A Collection is the most versatile furniture series. It began with a chair and blossomed into a collection of virtually unlimited potential, demonstrating that a single strong idea can contain a wealth of development options.

Today, the About A Collection includes four complete series: About A Chair, About A Stool, About A Table, and About A Lounge.
Together, these series comprise dining and conference chairs, office chairs, bar stools, lounge chairs, tables, a foot stool, and a sofa, all of which are equally suitable for private, professional, or public settings. View Collection

designed by Gamfratesi
The Beetle chair designed by GamFratesi, known for its comfort, versatility and trendsetting styling, the Beetle Chair is one of GUBI's most iconic designs.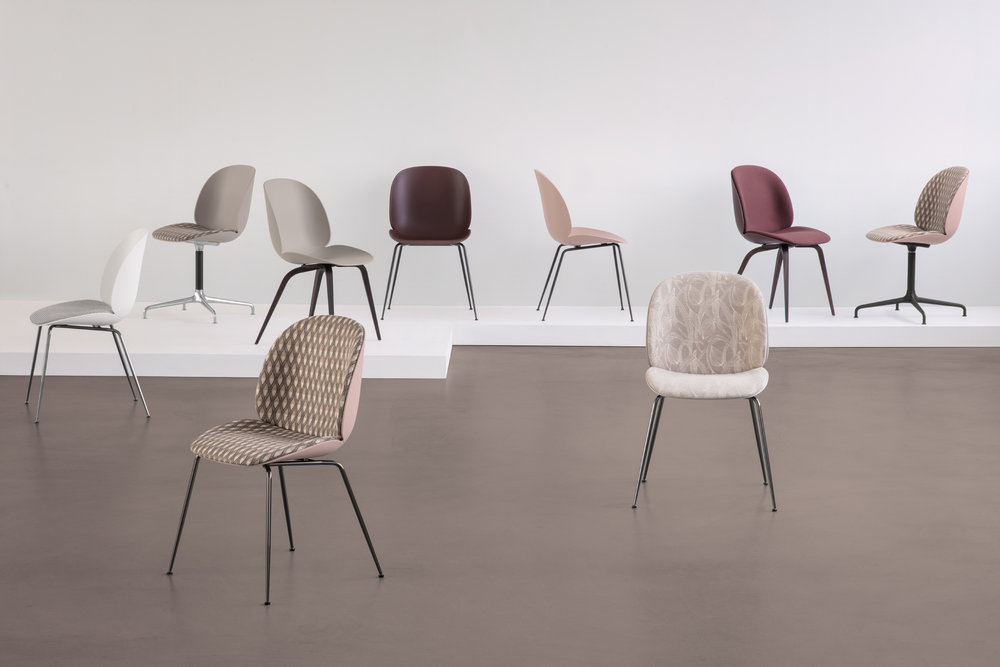 designed by Gamfratesi
The Bat Dining Chair is created with a Scandinavian approach to crafts, simplicity and functionalism by Danish-Italian design-duo GamFratesi. The embracing shell with armrests equally embodies both aesthetics and comfort while carrying strong references to the interesting and distinctive shape of a bat's wingspan. The wide range of shell colours, upholstery options and diverse bases provides for a personalised expression that makes the Bat Dining Chair fit perfectly into a variety of public and private contexts.
designed by Ross Didier
Didier's original FABLE Oak Collection was conceived as a contemporary homage to cottage crafts, defined by the evocative warmth of solid oak.
In an inspired retelling the FABLE Outside range is carefully re-imagined for the great outdoors. Resilient aluminium, hardy stainless steel and sand cast forms are expertly crafted by hand and machine, to ensure that each piece faithfully retains the pleasing proportions and personality of the initial range.
With a complete family of chairs, stools, bar and dining tables available in confident powder-coated hues, bring sophisticated simplicity to your world with Fable. View Fable Collection
Designed by Sam Hecht and Kim Colin
OE1 is a collection of optimised, essential pieces for a new era in the workplace. It's designed to help people experiment with space, discover what works in the moment, and change rapidly for the future.
designed by Hee Welling
A contemporary chair whose sleek shell is crafted from 100% recycled plastic. Renowned for his signature minimalism, designer Hee Welling's latest collection continues his legacy of melding simplicity with practicality. Rely's understated appearance belies the thorough consideration that has been given to its ergonomic design, with each of its curves developed to provide optimal back support.
designed by Charles & Ray Eames
Charles and Ray Eames built their single-shell chair design on the principle of universality. Two biomorphic shell shapes welcome bodies of all shapes and sizes. A choice of bases addresses most seating needs – dining, working, even rocking a baby to sleep. Material and upholstery options cover practically any aesthetic. It all adds up to more than 2 million unique configurations, and 70 years of Shell Chair love.
Contact Us or Visit our Showroom for and in depth introduction to our wide range of Furniture and Lighting Collections
SHOP by CATEGORY
QUICK SHIP / OFFICE CHAIRS / HOME OFFICE DESKS / DESK LIGHTS / MONITOR ARMS
SEATING / TABLES / OUTDOOR / LIGHTING /  DESKING / COLLABORATIVE / STORAGE / ACCESSORIES  / SALE