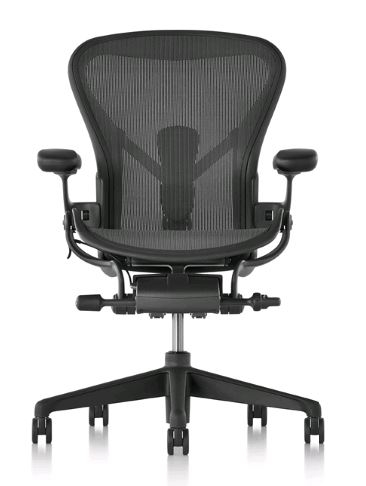 Aeron Chair
Designed by

Don Chadwick and Bill Stumpf
Product Category:
Seating - Office Chairs

Seating - Executive
Product information
Materials
Downloads
Since Aeron Classic debuted in 1994, Herman Miller have learned a great deal more about how best to support people in the varied postures they adopt throughout their workday.
With the new Aeron Remastered chair, two decades worth of technological and ergonomic enhancements have been incorporated to improve the health-positive design, and widen the range of cross-performance capabilities. Updates include a more refined tilt mechanism, adjustable PostureFit SL and 8Z Pellicle suspension material, the new Aeron performs smarter than ever before, so you can too.
For individuals sitting in an Aeron, cross-performance design means the chair accommodates a wide range of activities and postures people adopt while working – from intense forward-facing focus to relaxed contemplative recline. For designers and organisations, cross-performance makes Aeron suitable for a wide array of workplace settings, from residential workpoints to shared workshops.
With chairs, one size does not fit all people. Based on an ends-to-the-middle design approach, Aeron comes in three sizes to provide a fit that is inclusive rather than exclusive, and delivers the same comfort to the largest range of anthropometric body types of any chair.
NOTE: the Aeron Remastered version replaced the Aeron Classic version.
Aeron® Work Chair Features

▪ New 8Z Pellicle® material that delivers increased comfort and ergonomic support. 
▪ Across the seat and back, 8 latitudinal zones of varying tension envelope the sitter.
▪ Kinemat® tilt limiter and horizontal or 5° forward seat angle adjustment.
▪ Adjustable PostureFit® SL, provides a custom fit in sacral and lumbar regions of the spine that helps achieve healthier posture and improved lower back comfort.
▪ Pneumatic height adjustment - available in standard, high or low height
▪ 5-way base on castors 
▪ Fully adjustable arms: height-adjustable + 15° pivoting armpads or without arms
▪ Aeron chairs are tested and warranted for use by persons 160kg and under.

AERON OPTIONS:
Size: Size A, B or C - refer to size chart in downloads
Frame, Seat & Back: Graphite (darkest), Carbon or Mineral (light grey).
With or without arms: fully adjustable, Vinyl pads, graphite colour
Base: 5 star base, Graphite (darkest), Carbon, Mineral (light grey) or polished base
Castors: for carpet or hardfloor or both

Warranty: 12 year, 3 shift
Dimensions
Size A: 654mmW x 400mmSD x 1042mmH, 406-521mmSH, 483mmSW
Size B: 684mmW x 432mmSD x 1067mmH, 406-521mmSH, 514mmSW 
Size C: 718mmW x 470mmSD x 1143mmH, 406-521mmSH, 551mmSW
Good to know
Adjustable PostureFit SL that supports both the sacrum and lumbar to better nurture the natural S-shape of the spine.
Inclusive A, B, C Sizing with updated sizing chart and increased weight limit more accurately fits the human form.
Aeron achieves Cradle to Cradle Certified™ Silver, BIFMA level® 3, and GREENGUARD Gold Certified status
Herman Miller 12-year, 3-shift warranty.
Standard black Aeron in stock at designcraft. Other colours 8-12 week leadtime.
- Product made using a process or in a location that is associated with a lower environmental impact, or with a supply chain that has a lower environmental footprint
- AFRDI Green Tick Approved AFRDI 150 A – Platinum
Pellicle Suspension Material
Plastic
Aluminium
Sustainable Manufacturing