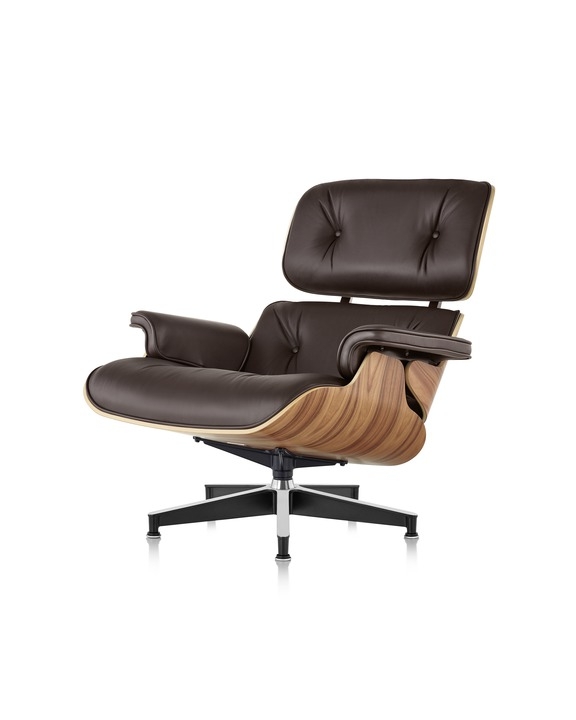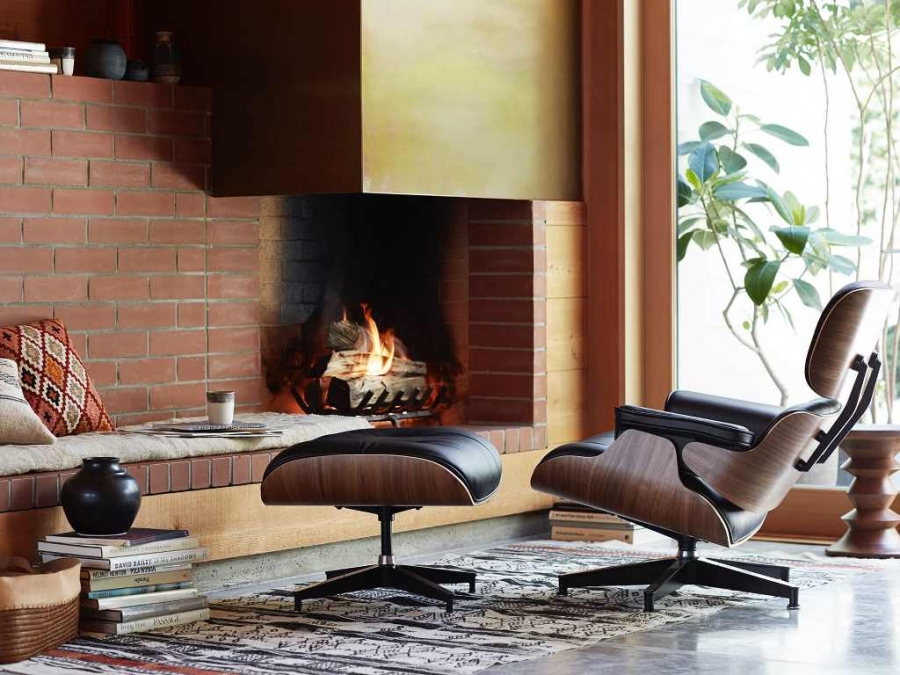 Eames Lounge Chair & Ottoman
Designed by

Charles and Ray Eames
Product Category:
Product information
Materials
Downloads
Like all classics, the Eames Lounge Chair and Ottoman get better with age, in part because of how they are made. From the innovative hardware that fastens the cushions to the shell without marring the appearance of the wood to the fact that each piece continues to be assembled by hand, the combination of craft and manufacturing consistency results in pieces that are genuinely authentic.
Designed by design icons Charles and Ray Eames, when the Eames chair and ottoman was introduced in 1956, there was nothing else like it. The design was completely new. It has endured for more than 50 years to become one of the significant furniture designs of the 20th century
The Eames Lounge Chair and Ottoman have their origin in Charles and Ray's investigations into moulding plywood and a desire to improve upon a familiar fixture in many living rooms: the lounge chair. Citing the English club chair as inspiration, Charles said he sought to design a modern version of that chair, one that had "the warm receptive look of a well-used first baseman's mitt".
Almost immediately, the design became an icon of American design. Today, these pieces not only live in museums, but continue to offer comfort and style to interiors everywhere. A universally recognised form, the set is available in a variety of veneers, multiple upholstery options – including a choice of leathers or Mohair – and two sizes. Whatever selection you make, you can be assured of the quality and authenticity of this design.
MATERIAL
Seat and Back: Leather or Mohair 
Outer shell: Veneer 
Base: Aluminium
FINISHES
Seat and Back: Select from a wide range of leather selection - please refer to the attached chip chart
Outter shell:
Classic version - Oiled Santos Palisander, Oiled Walnutm Santos Palisander or Walnut 
White Ash version - White Ash 
Base:
Classic version - Black Enameled on Polished Aluminium 
White Ash version -  White Enameled on Polished Aluminium
Dimensions
Lounge Classic: 850mmW x 890mmmD x 800mmH, 405mmSH
Lounge Tall: 850mmW x 960mmD x 845mmH, 420mmSH
Ottoman: 660mmW x 525mmD x 440mmH
Good to know
- The seat is permanently tilted to take the weight off your lower spine and distribute it properly across the backrest.
- 5-year warranty
- Original Production Date 1956