MID CENTURY DESIGN ICONS
Eames®  Shell Chair
designed by Charles and Ray Eames
Charles and Ray Eames, designers of the Eames Shell Chair famously said: "The role of the designer is that of a very good, thoughtful host anticipating the needs of his guests."
Most of the designs that came out of the Eames Office did just that—suiting a need and solving a problem. But what is perhaps most remarkable about Charles and Ray's 1950 design for the Eames Shell Chair is just how many of life's requirements they were able to meet in a single, gracious form.
What makes the Shell Chair so beloved is its universality and adaptability—no wonder then, that it's equally at home in museum collections, living rooms, Laundromats, office, lobbies, and cafés.
It's also an inextricable part of Herman Miller's DNA: The company had a longstanding tradition of giving every employee an Eames Shell Chair Rocker when they welcomed a new family member into their home.
Back in the Family
The LAR (Low Armchair Rod Base) was one of the original five Shell Chair models that Herman Miller introduced in 1950. Its discontinuation in the mid-1960s made it an instant collector's item.
Its return as the Eames Shell Chair with Low Wire Base once again converts the one-piece armchair shell to a perfectly pitched lounger.
Materials for the Moulding
The Eames one-piece shell concept has never been tied to any one material. Original 1950 designs were fibreglass, with bent wire following the next year. The hazards of working with fibreglass prompted a switch to polypropylene (they've since been relaunched with a safer fibreglass formula). Later, advances in veneer technology made the Eames Moulded Wood Chair possible. They're all part of the line today, along with options for upholstery and seat pads.
Base Motives
In a famous 1969 interview, Charles Eames was asked: To whom does Design address itself? "Design addresses itself to the need," he responded.
That simple answer explains the variety of Shell Chair base options available today.
Whether you need elegant dining chairs or statement-making office seating, versatile stacking chairs or stools for the kitchen counter, there's an Eames Shell Chair for you.
Charles Eames famously said:
"The role of the designer is that of a very good, thoughtful host anticipating the needs of his guests."
With the moulded plastic, fibreglass and wood shell chairs, as well as the wire chair, Charles and Ray Eames created a universal response to what everyone wants from a chair: a simple, gracious form that fits any body and every place.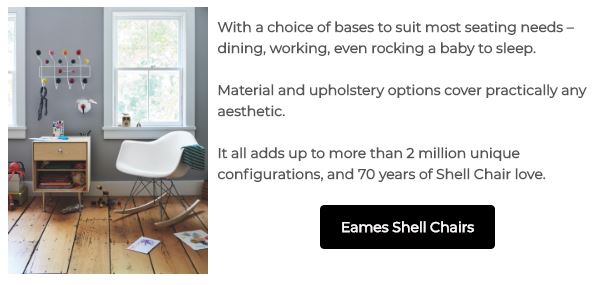 Herman Miller commissioned animator Bill Porter to sketch out how a single chair can touch so many parts of one's life—and how so many small moments can sometimes add up to our greatest.
Design Story
The idea to create a lightweight, one-piece chair shell dates back to 1939. That's when Charles Eames and Eero Saarinen began experimenting with plywood chair shells at Cranbrook Academy. After Charles and Ray Kaiser married in 1941, the couple picked up these experiments at the Eames studio in Venice, California.
In 1948, Charles entered a stamped steel shell chair in the Museum of Modern Art's International Competition for Low-Cost Furniture Design. It took second place, but the Eameses determined that steel could be cold and might rust over time. So they kept iterating. They reached out to a boat builder to create a fibreglass shell prototype. Then they began looking for a partner who could mass produce the shells. By 1950, Herman Miller had introduced the world to this endlessly versatile chair. Today it's become a design icon.
Visit out Showroom or contact us today for more details on this limited time offer.
SHOP by CATEGORY
DESIGNED BY CHARLES AND RAY EAMES / DESIGNED BY GEORGE NELSON
QUICK SHIP / OFFICE CHAIRS / HOME OFFICE DESKS / DESK LIGHTS / MONITOR ARMS
SEATING / TABLES / OUTDOOR / LIGHTING /  DESKING / COLLABORATIVE / STORAGE / ACCESSORIES  / SALE