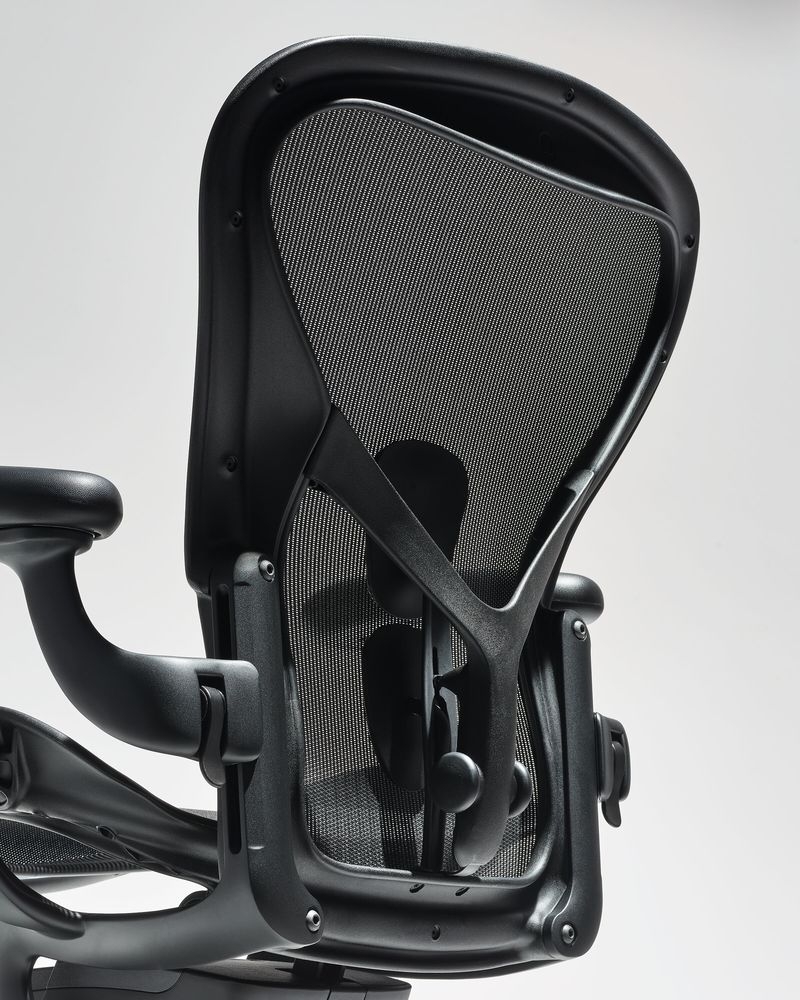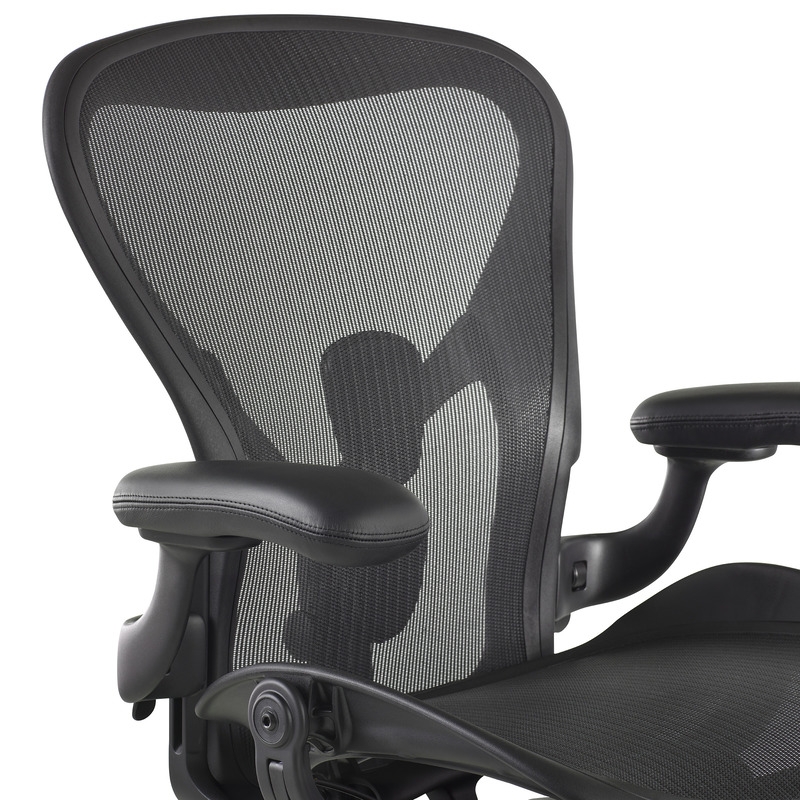 Aeron Chair Size B & C - Onyx - Polished base - IN STOCK
Designed by

Don Chadwick and Bill Stumpf
Product Category:
Seating - Office Chairs

Seating - Executive
Product information
Materials
Downloads
Aeron® Onyx by Herman Miller
SALE PRICE $2332
UNTIL 30 JUNE 2022 (NORMAL RRP $2585)
Now made with ocean-bound plastic, it's the exact same chair made more sustainable.
Aeron was designed in 1994 & re-mastered in 2016. In 2021 ocean-bound plastic was added to the body of the chair.
Aeron's three sizes – A, B and C – were precisely designed to welcome a wide range of body types. There's an Aeron suited to nearly everyone, from the first to the 99th percentile.
Aeron is composed of more than 50% recycled material and in 2021 ocean-bound plastic was added to the body of the chair, diverting more than 150 metric tons of plastic from the ecosystem every year.*
*based on annual sales forecast
Aeron® Work Chair Features
Three Sizes – A, B or C for the right fit, with slight variations from the backrest height, seat width, tilt mechanism – all the way down to the size of the base.
8Z Pellicle® offers unprecedented comfort through first-of-its-kind elastomeric suspension, with eight varied zones of support, eliminating pressure points that restrict circulation and keeping you.
Harmonic 2 Tilt helps the chair move with you thanks to an innovative tilt mechanism under the seat.
PostureFit SL supports the sacral region to nurture the natural S-shape of the spine and activate a healthful posture. A secondary pad adds support to the lumbar region. (available to order with an adjustable lumbar support)
Fully Adjustable Arms with height adjustment, pivoting arm pads and forward & backward movement of the arm pads
Pneumatic Height Adjustment (available to order with a higher or lower height range)
5 Star Base on 65mmØ castors for carpet (available to order with hard floor castors) Aeron chairs are tested and warranted for use by persons 160kg and under.  
Finishes
IN STOCK -
Seat & Back: Black
Armpads: Black
5 Star Base: Polished Aluminium
Castors: Black
Dimensions
A Size: 699-744mmW x 686-699mmD x 870-978mmH, 366 - 490mmSH x 406mmSD
B Size: 719-772mmW x 699-719mmD x 933-1045mmH, 401-528mmSH x 432mmSD, 191-292mm Arm Height
C Size: 719-803mmW x 699-719mmD x 1016-1153mmH, 427-579mmSH x 470mmSD, 191-292mmAH
Price Range
Size B & C - Onyx Polished base - $2585 incl GST
Warranty
12 year 3 shift warranty
Good to know
- Retail Price includes GST and is for collection from Designcraft Canberra showroom only
- Local delivery available at an additional cost on request
- Product made using a process or in a location that is associated with a lower environmental impact, or with a supply chain that has a lower environmental footprint
- Aeron achieves Cradle to Cradle Certified™ Silver, BIFMA level® 3, and GREENGUARD Gold Certified status
- AFRDI Level 6 Certified - Severe Commercial
- Recyclability Up to 90%
- Global GreenTag Green Rate - Level A
- SCS Indoor Advantage - Gold
Pellicle Suspension Material
Sustainable Materials
Sustainable Manufacturing