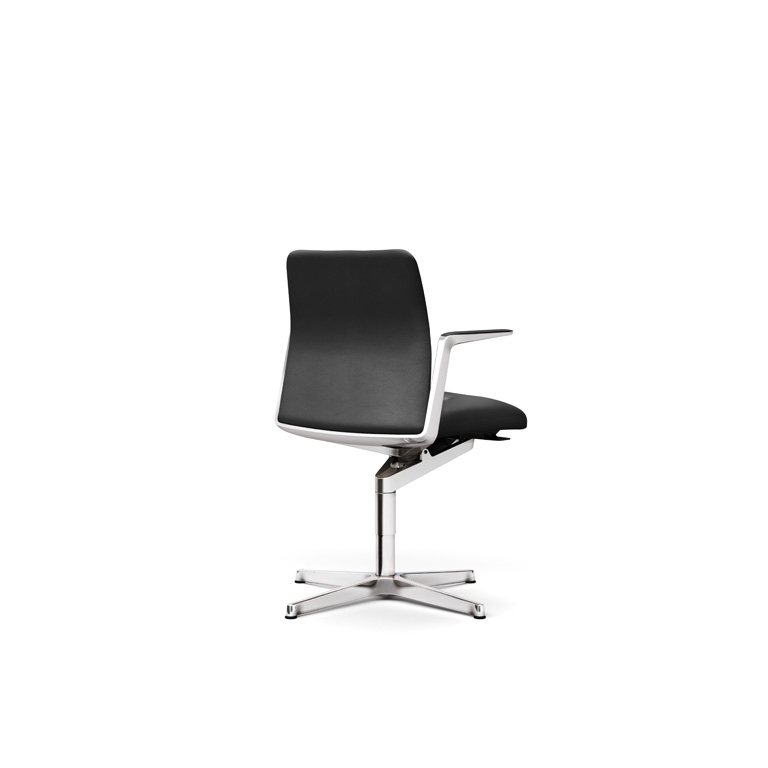 Leadchair Management
Product Category:
Seating - Executive

Seating - Meeting/Training

Seating - Office Chairs
Product information
Materials
Downloads
Modern minimalism. Leadchair Management is the swivel chair that suits modern working and conferencing. A strong character, appropriate and enduring. Innovative upholstery craftsmanship and meticulous metal finishing based on experience: the design of lines and surfaces reveals the true elegance of the range. The cover for seat and back is applied directly to the foam-moulded upholstery. The base seems of a piece. All components and lines are precisely defined to create a harmonious whole. Transparent and: the function of the synchronised mechanism. Comfortable sitting for sustained performance.
The Leadchair Management also comes with soft upholstery – a softer, more informal look. Available in a wide selection of leather and fabrics.
SWIVEL CHAIR 
Seat: Height adjustment mechanism. Three back heights: Low, Med and High
Base: 5-star swivel base with castors
CONFERENCE and VISITOR CHAIRS
Seat: Three back heights: Low, Med and High
Base: 4-star base with glides or 5-star base with castors. 
FINISHES
Frame: Highly polished Aluminium or Powdercoated Black Matt (For surcharge)
Seat and Back: Upholstered in selected fabric or leather 
Armrest: For leather upholstery the armrest cushion matches the seat and back cover. For fabric upholstery the armrest cushion is in leather Congress black
Options: Chairs with 4-star bases are also available with return mechanism for surcharge (not possible for chairs with height adjustment).For conference chairs with height adjustment please refer to the swivel chair
Dimensions
5-star on castors
Low: 720mmW x 720mmD x 840mm-930mmH, 405mm-495mmSH
Med: 720mmW x 720mmD x 980mm-1070mmH, 405mm-495mmSH
High: 720mmW x 720mmD x 850mm-1275mmH, 405mm-495mmSH
Swivel base
Low: 690mmW x 690mmD x 875mmH, 440mmSH
Med: 690mmW x 690mmD x 1015mmH, 440mmSH
High: 690mmW x 690mmD x 1220mmH, 440mmSH
Good to know
- 5-year warranty
- Also available as Leadchair Executive with more generous dimensions and strong armrests.
Fabric or leather upholstery
Aluminium