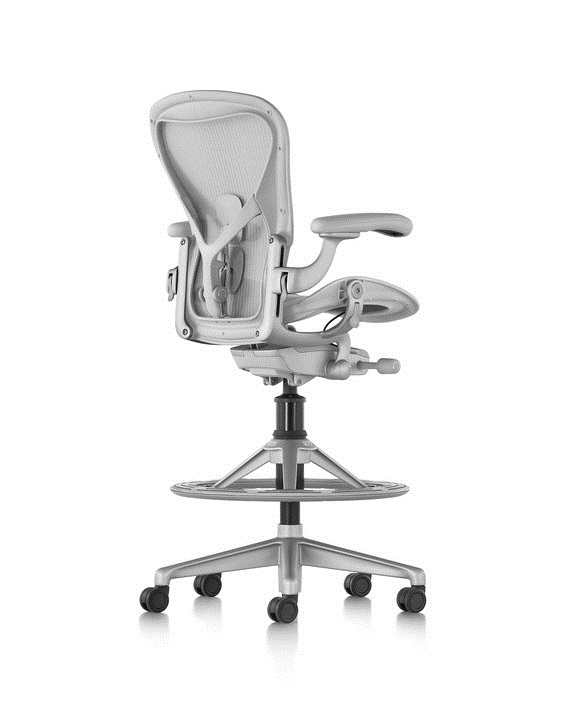 Aeron Stool
Designed by

Don Chadwick and Bill Stumpf
Product Category:
Seating - Drafting Stools

Seating - Office Chairs
Product information
Materials
Downloads
The new Aeron Stool takes our iconic chair to greater heights, pairing with higher work surfaces, tables and countertops. While the stool's iconic form has remained largely unchanged, it's been remastered to meet the needs of today's work. The stool offers the same ergonomic excellence as the new Aeron Chair, including adjustable PostureFit SL and the comprehensive support of 8Z Pellicle suspension material.
The Aeron Stool offers unique features and user benefits not typically found in performance work stools. The footrest platform, which, at 6 cm wide, is three times wider than the typical footring, was specifically designed to provide a large, comfortable area to support your feet. This reduces the pressure and resulting discomfort that's usually created with a smaller footring.
When you adjust the seat height of the Aeron Drafting Stool, the footrest moves with the seat so that you don't have to worry about having to readjust the footrest height as well. Treads along the footrest also ensure that sitting down in and getting up out of the stool feel comfortable and easy. Together, all of these enhancements allow the new Aeron Stool to perform better than ever before, so you can, too.
Good to know
- Herman Miller 12 year, 3 shift warranty.
- Product made using a process or in a location that is associated with a lower environmental impact, or with a supply chain that has a lower environmental footprint.
- AFRDI Green Tick Approved AFRDI 150 A – Platinum
Pellicle Suspension Material
Plastic
Aluminium
Sustainable Manufacturing