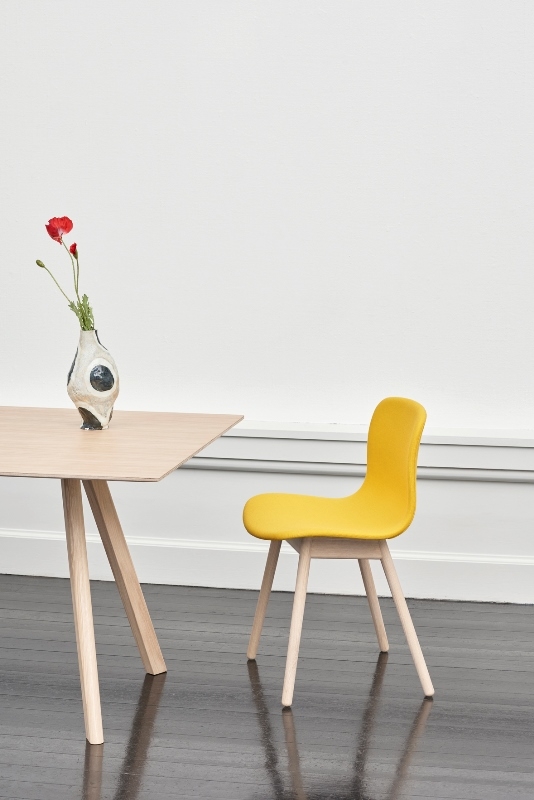 About A Chair AAC13
Product Category:
Seating - Dining

Seating - Meeting/Training
Product information
Materials
Downloads
With its gently curved open shell and symmetrical solid base, the About A Chair AAC 13 design offers a refreshingly pared back expression that is consistent with the rest of the series. The lack of armrests ensures a clean, clutter-free silhouette, whilst the shaped back provides optimal comfort. The wooden frame with elegant, rounded legs conveys warmth and character, and ensures greater stability and a longer lifetime. The polypropylene or upholstery shell and solid wood base are available in a wide range of options.
Part of a multi–functional family of dining and conference
chairs, office chairs, bar stools, lounge chairs, tables, an
ottoman and a sofa.
Variability of textiles, colours and base finishes.
Suitable for a wide variety of private and public environments.
Qualified for contract use.
Available with plastic shell, with front- and seat upholstery (AAC 12) and full upholstery (AAC 13) in a large selection of abrics and leathers.
Shell is also available with armrest.
MATERIAL
Shell: Injection moulded polypropylene shell without armrest
full upholstery.
Base: 4 leg Solid wood 
FINISHES
Shell: Selected fabric or leather upholstery - please see attached product sheet for the options.
Base: Black stained oak, Oak soap washed, Clear lacquered or Matt lacquered 
View more finish options and all HAY products view HERE
Dimensions
510mm W x 505mm D x 785mm H, 460mmSH
Good to know
- Other base options are: 4-leg steel base, swivel base, wheel base, sled base and moulded plywood legs.
- 2-year warranty
Fabric or leather upholstery
Polypropylene
Timber