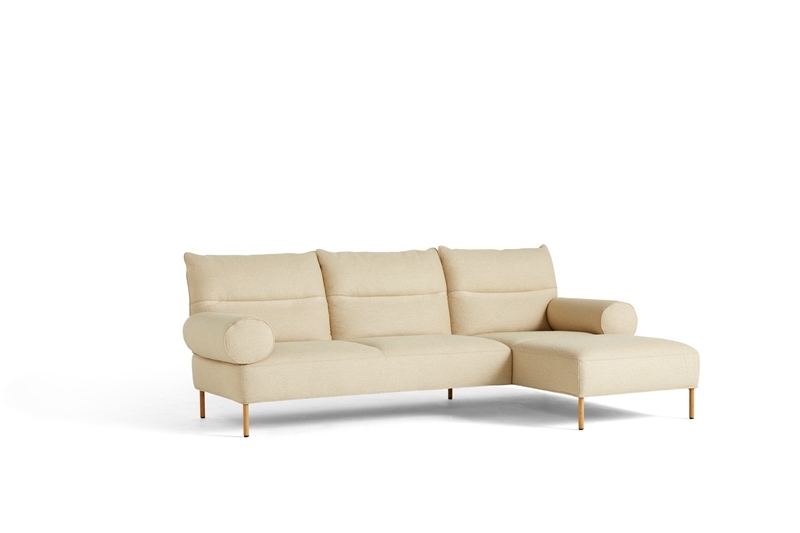 Pandarine Sofa Collection
Product Category:
Seating - Sofas

Seating - Lounge Chairs
Product information
Materials
Downloads
Inga Sempé's Pandarine fuses the luxurious comfort of a bed with the versatility of a modular sofa in an elegant and versatile design.
The armrests come either in a cylindrical form, or with a reclining design that can be adjusted individually in the same way as the metal-hinged backrests.
This gives Pandarine the ability to transform into a unified, mattress-like surface where the backrests serve as huge, soft pillows.
Constructed using a combination of Nozag springs, foam, and wadding, Pandarine is designed to provide exceptional comfort in any number of sitting or lying positions.
Available in two and three seater versions with options for additional chaise lounges and corner modules, its range of textiles and configurations give it great flexibility for use in a variety of private and public contexts.
MATERIALS
Adjustable back-and reclining armrest: FCS-certified plywood frame with polyurethane foam and a duvet with a mix of feather and silicone balls. Incl. metal hinges. Full upholstery
Cylindrical Armrest: FSC-certified plywood frame with wadding and polyurethane foam. Full upholstery.
 
Seat: FSC-certified plywood and spruce wood with polyurethane foam and wadding. Incl. Nozac springs. Full upholstery with Fibertex bottom.
Base: 30 mm steel tube legs or 29 mm wood legs. The sofa comes with matching textile sleeves for the legs that can be monted separately.
FINISHES
Seat and arms: Available in a large selection of standard fabrics and leathers. Please refer to the attached product sheet.
Base: Black stained oak / Oiled oak / Oiled walnut / Maroon red stained oak / Chromed steel
Dimensions
Available in various configurations. Please refer to the attached product sheet.
Good to know
- Available in 20 pre-defined configurations.
- Fully adjustable backrest for optimal seating or lying positions.
- Reclining armrest can be adjusted individually as the backrest.
- Possibility of covering the legs with a textile sleeve.
- 2-year warranty
Fabric or leather upholstery
Timber
Steel