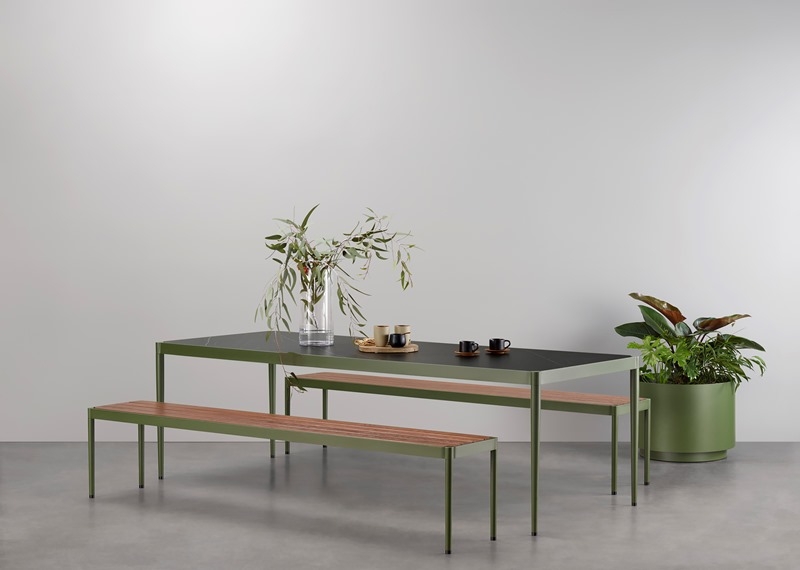 Trace Dining Table
Product Category:
Outdoor - Tables

Tables - Dining
Product information
Materials
Downloads
Defined by its dynamic play of materials and design detail, the Trace Dining Collection by Adam Goodrum is an exploration of texture, colour and substance. High performance and engineered to withstand harsh environmental conditions, Trace Dining has been developed with expert craftsmanship, employing aluminium, sustainable timbers and marbled porcelain materials. Spanning commercial to residential and hospitality to corporate applications, each piece in this complete and comprehensive collection is designed for outdoor use, though is equally at home indoors. All Tait pieces are made locally and come with a 5-year warranty.
MATERIAL
Top: Porcelain or Sustainable Timber 
Frame and legs: Aluminium
FINISHES
Top: Porcelain in White Matt/ White Marbles/ Black Matt or Black Marbled, Timber in Accoya White/ Accoya Silver/ Accoya Natural/ Accoya Black or Smoked Oak
Frame and legs: Selected Textured powder coat - please refer to the attached product sheet.
Dimensions
1500mm/1800mmL x 745mmD x 730mmH
1800mm/2100mmL x 925mmD x 730mmH
2100mm/2400mmL x 1105mmD x 730mmH
2400mmL x 925mmD x 730mmH
Warranty
5 year conditional
Good to know
- Trace Bench Seat available
- Made in Australia (Melbourne)
- Product made using a process or in a location that is associated with a lower environmental impact, or with a supply chain that has a lower environmental footprint.
- Product made from sustainably sourced materials with a lower environmental impact than conventional alternatives.
Aluminium
Porcelain
Timber
Sustainable Manufacturing
Sustainable Materials