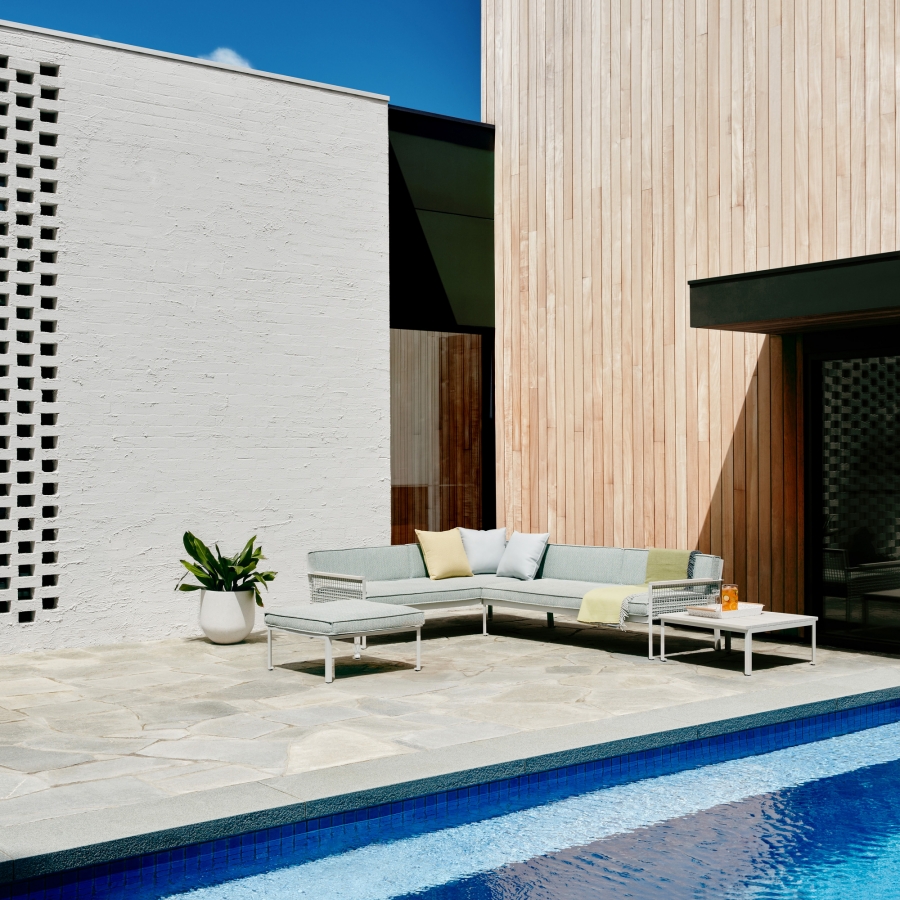 Breeze Modular
Product Category:
Outdoor - Seating

Seating - Outdoor

Seating - Modular
Product information
Materials
Downloads
An extension of the elegant Breeze collection, Breeze Modular is a contemporary interpretation of the classic outdoor lounge setting. Incorporating Breeze's signature woven wire frame and timber detail, the cohesive series is defined by a sophistication that attracts a variety of indoor and outdoor contexts, from residential to commercial settings.
Encompassing seven different modules, Breeze Modular can be assembled in various ways to include corner, single arm and arm-free units, in addition to coffee table and ottoman options. The range can be further configured to beautifully complete your unique outdoor space and deliver an unrivalled sense of luxury.
Breeze's raw materiality is softened by comfortable seat and back cushions, with full exterior-grade foam, upholstered in an extensive range of premium outdoor fabrics.
MATERIAL
Frame: Zinc-plated mild steel frame and woven wire mesh panels
Armrests: Sustainable timber
Cushion: Full exterior-grade cushions
FINISHES
Frame: Select from a range of UV-stable powder coat colours
Armrests: Accoya White, Accoya Silver, Accoya Natura,l Accoya Black or Spotted Gum
Cushion: Select from a range of outdoor textiles.
Dimensions
Left/Right Corner Module: 2000mm/2300mm/2600mm x 810mm x 660mmH, 380mmSH
Left/Right Module: 1490mm/1790mm/2090mm/2390mmL x 660mmH, 380mmSH
Centre Module: 1440mm/1740mm/2040mm/2340mmL x 810mm x 660mmH, 380mmSH 
Good to know
- 5 year structural warranty
- Available as a sofa and a lounger
- Breeze Coffee Table and Ottoman can be added to the modular
- Made in Australia (Melbourne)
- Product made using a process or in a location that is associated with a lower environmental impact, or with a supply chain that has a lower environmental footprint.
- Product made from sustainably sourced materials with a lower environmental impact than conventional alternatives.
Outdoor Upholstery
Steel
Timber
Sustainable Manufacturing
Sustainable Materials