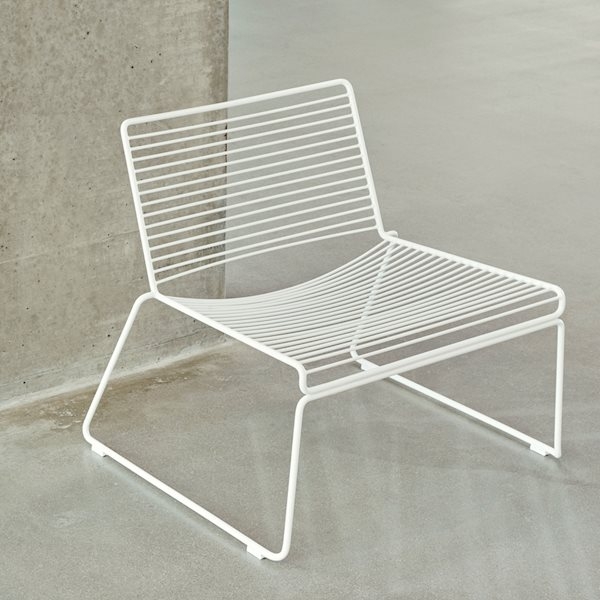 Hee Lounge chair
Product Category:
Outdoor - Seating

Seating - Lounge Chairs
Product information
Materials
The philosophy behind the Hee Series was to take an archetypal chair and perfect it down to the last detail while cutting the essentials to the bone. The goal was to create a contemporary chair to fit into a wide range of contexts. The attempt was a great success, resulting in the pragmatic and easily decoded Hee series. Like a line drawing, it wraps metres of metal wire into neat, straight lines in three versions: bar stool, lounge chair and dining chair. The metal wire is electro-galvanized before it is lacquered, making it rust-resistant and perfect for outdoor use.
With its wide, welcoming seat and low height, Hee Lounge is definitely the most laid-back model in the Hee series. Although the elemental design is manifested here in more relaxed proportions, it still retains the same light, understated aesthetics and functional properties as the rest of the family. Stackable and weather-proof, the Hee Lounge Chair can be used in outdoor surroundings, as well as inside restaurants, bars and in a home environment.
Colour & Finish
Available in Asphalt Grey, Beige, Black, Fall Green, Racing Green, Rust and White 
11 mm galvanized powder coated solid steel tube.
Comes with pre-mounted gliders.
Dimensions
720mmW x 670mmD x 670mmH, 370mmSH, 550mmSD
Good to know
The chairs are electro-galvanized making them suitable for outdoor use.
Part of a multifunctional family of chairs, lounges and stools in a variability of colours.
Stackable up to 15 pcs.