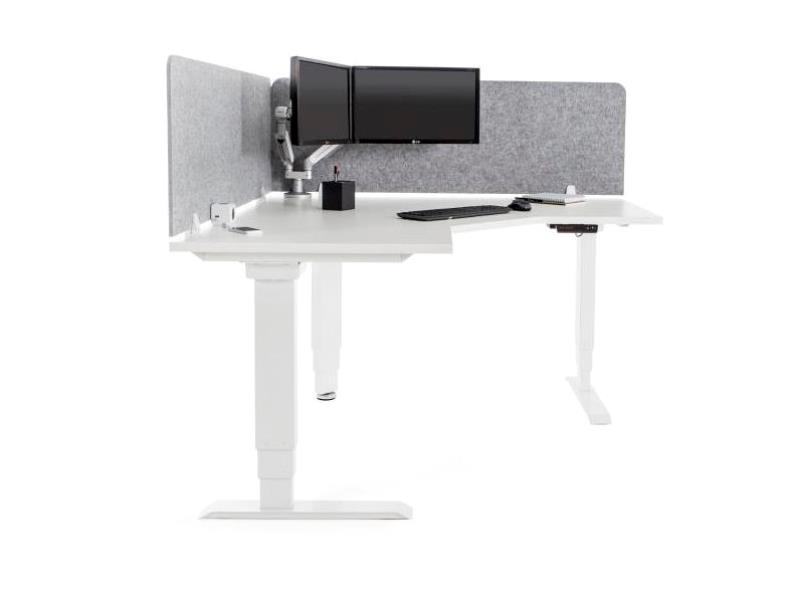 Electric 120 degree workstation
Product Category:
Product information
Materials
The Elevar E Series is the latest in electric sit and stand workstations. Capable of holding 150kg including top, this L-shaped electronic adjustable desk can extend up to a 2100mm x 2100mm wide x 900mm deep workstation, perfect for any office.Designed in Europe and powered by a motor and linear actuator per leg, the Elevar E series is one of the fastest, strongest and quietist desks around.
The versatile height range will accommodate any user, reaching a maximum height of 1285mm. Included with the EV-1090 is the programmable controller which allows you to program and recall your favourite settings at the touch of a button.
Packed with safety features such as collision control, overheat protection circuit, and shelf and container stop makes the Elevar Electric Desks one of the smartest on the market. Upgrade your 3 leg Elevar to a 6, 9, or even 12 leg Electric Adjustable table with our unique Elevar Cascading feature.
Key features - Elevar Electric 90 Degree Workstation (EV-1120)
120 degree / Right Angle desk
3 motors/frames
Max Weight: 150kg (including top)
Colour options: Silver / white / black
Programmable controller
Collision control
Shelf container stop
AFRDI certififed
Commercial 10 year warranty
Dimensions
Height Range: 635mm – 1285mmH
Width Range: 1200/1200mm x 2100mm/2100mmW
Melamine
Laminate
Veneer
Powdercoated Metal