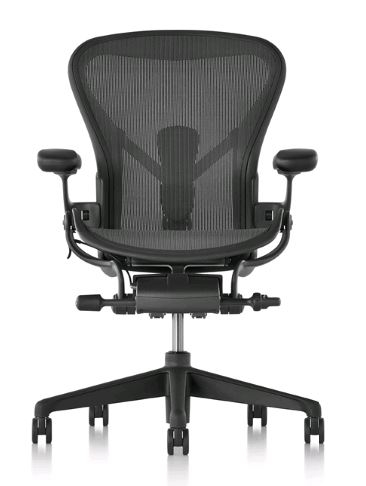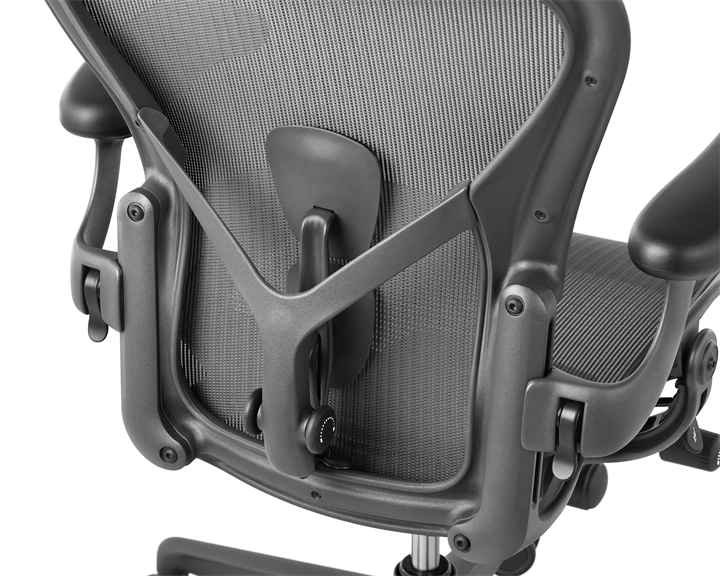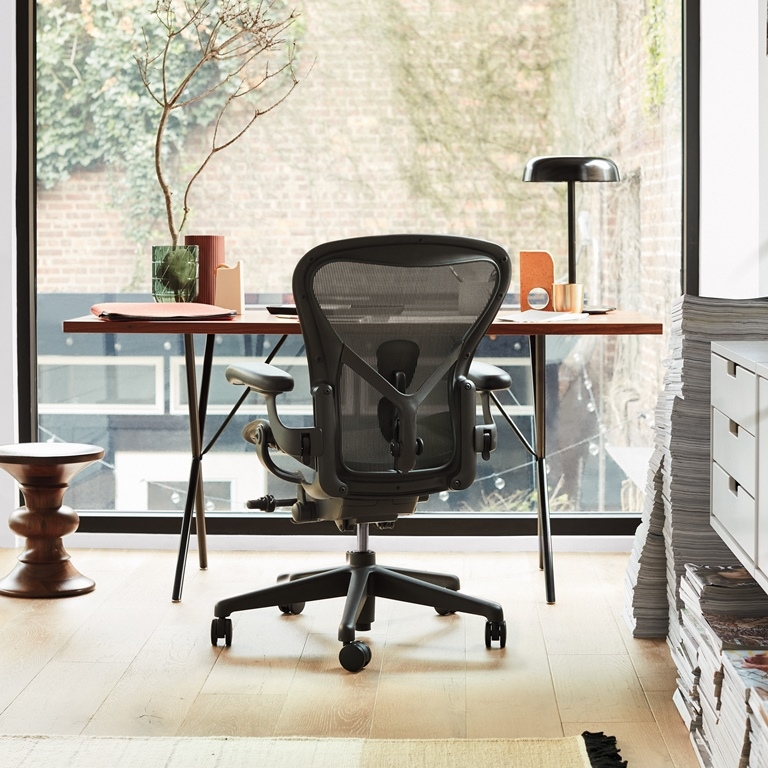 Aeron Chair - IN STOCK
Designed by

Don Chadwick and Bill Stumpf
Product Category:
Seating - Office Chairs

Seating - Executive
$1,870.00
Product information
Materials
Downloads
Aeron® Work Chair - Size B or C with arms

▪ New 8Z Pellicle® material that delivers increased comfort and ergonomic support. 
▪ Across the seat and back, 8 latitudinal zones of varying tension envelope the sitter.
▪ Kinemat® tilt limiter and horizontal or 5° forward seat angle adjustment.
▪ Adjustable PostureFit® SL, provides a custom fit in sacral and lumbar regions of the spine that helps achieve healthier posture and improved lower back comfort.
▪ Pneumatic height adjustment - standard height range (also available to order in high or low height)
▪ 5-way base on BB castors 65mmØ for carpet
▪ Fully adjustable arms: height-adjustable + 15° pivoting armpads 
▪ New feature which provides a forward and backward movement of the armpad
▪ Aeron chairs are tested and warranted for use by persons 350 pounds and under.
WATCH how to adjust the Aeron chair CLICK HERE
Finishes
Frame, Seat & Back: Graphite colour
Arms: fully adjustable, Vinyl pads, graphite colour
Base: 5 star base, Graphite colour
Castors: BB castors 65mmØ for carpet, black 
Dimensions
Size B: 684mmW x 432mmSD x 1067mmH, 406-521mmSH, 514mmSW 
Size C: 718mmW x 470mmSD x 1143mmH, 406-521mmSH, 551mmSW
Warranty
12 year 3 shift warranty
Good to know
- Retail Price includes GST and is for collection from designcraft Canberra showroom only.
- Local delivery available at an additional price on request.
- Product made using a process or in a location that is associated with a lower environmental impact, or with a supply chain that has a lower environmental footprint.
- AFRDI Green Tick Approved AFRDI 150 A – Platinum
- 12 Year, 3 Shift Warranty
Pellicle Suspension Material
Plastic
Aluminium
Sustainable Manufacturing